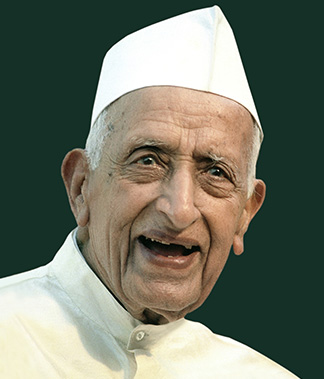 "Whatever you do in word or in deed, Do all in the name of the Lord, Giving thanks to Him" —  Padmabhushan Karamshibhai Jethabhai Somaiya.
Pujya Shriman Karamshibhai Jethabhai Somaiya, born on May 16, 1902 to humble beginnings; he rose to become one of the doyens of the sugar industry in Western India. His pioneering efforts revolutionized the sugar industry.
The early decades of the 20th century were a period of significant national resurgence and no sensitive young man could ignore the stirring presence of Mahatma Gandhi. Karamshi was no exception. His ever seeking mind was moulded by Gandhiji's ideas of 'Swadeshi' and 'Satyagraha'. To make India independent and industrially & economically advanced, was the dream of every young mind.
To further his dream of contributing to India's economic independence, he became a partner in a leading sugar trading firm M/s. Shobachand Ramnarayan Kothod of Shrirampur in Ahmednagar district. His knowledge of the sugar industry was soon widely acknowledged and respected and in course of time he came to be called "the Sugar King of India".
Commissioned by the Government, Shri K.J. Somaiya launched the Sakarwadi factory in 1939, and another, Lakshmiwadi factory in 1941,the start of the Godavari Sugar Mills Ltd. in Maharashtra State. One of the most successful entrepreneurs of recent times in the State, Shri K.J. Somaiya occupied many positions of public responsibility. He was the President of the Deccan Sugar Factories Association, the President of the Deccan Sugar Technologists Association and played a leading part in the deliberations of the Federation of Indian Chambers of Commerce and Industry.
He was often consulted on matters crucial to the Sugar Industry. Endowed with a sharp business acumen, a balanced perspective and a social bent of mind he set up the Somaiya Trust in 1953 for furthering his dream of shaping young minds through quality education. For this purpose he bought a large area of land at Ghatkopar in the godforsaken outlying eastern suburb of Mumbai, much to the consternation of the members of his family and colleagues. It was no place they thought to develop an educational complex in a far flung marshy swamp!
Shri K. J. Somaiya proved all skeptics wrong as witnessed by the mushrooming growth of Ghatkopar as a formidable centre of middle class living. Karamshibhai laid the foundation for Somaiya Vidyavihar in 1959. In close to four and a half decades it has grown into a large educational complex with 34 institutions catering to diverse fields of education such as Humanities, Engineering, Education, Medicine, Management and Mass Communication, with more than 39,000 students and 1,500 faculties.
It was the vision of Shri K. J. Somaiya that modern professional education must remain true to the spirit of Indian ethos and culture. He insisted on value-based education, believing firmly that a community uncaring for its traditions is decadent and insubstantial.
Shri K. J. Somaiya passed away on May 9, 1999, a week before his 97th birthday. Somaiya Vidyavihar is the living legacy he has left behind, a standing monument to his sagacity, perseverance and foresight.